Why do I live in Canada?! It's so nice and warm in Florida, I need to live by the ocean! Now accepting marriage proposals lol! Well maybe if your a good little bitch who is great at massage, cooking, loves being bossed around and serving and spoiling a tall goddess this could work!
I had such a great time in Florida, I started off in Tampa for foot fetish and wrestling sessions and as well to film with some fetish producers.
I had the best lil' foot puppy take care of my feet for the whole time in Tampa. He got me food and drove me everywhere as I teased him with my big beautiful feet. I love having my toes sucked, kissed and massaged. I really need a foot boy who lives in Ottawa!
So I'm now known as the knockout Queen lol! Everyone has been booking sessions with me requesting either Sleeper Hold knockouts or reverse scissor knockouts. I have Rich to thank for that great review he put on my Session Girls page! I still keep getting more reviews about my knockouts, maybe because it's the best feeling ever and then you wake of to MEEEE! I do enjoy giving them and for this one cute little victim (the one in my feature pic) I Knocked him out 3 times with my reverse scissor.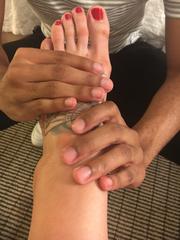 I had the the pleasure of being tickled by FTKL Tickling! But not just tickled tied up and tickled. I had never been tied up before and FTKL popped my cherry! We filmed two clips a fun fight scene ending with me getting tied up and tickled! Watch the clip here
We also filmed a this creepy stalked and tickled clip. Ended with a man breaking in and tickling me and tying me up in bed. Watch the clip here
After getting tied up and tickled I filmed with Terra Mizu. We filmed a size comparison with Orias and an amazing lift and carry.
Watch the clip here She was so light she felt weight less! We also filmed a mouth tour with Oria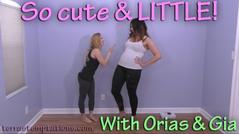 I had some really fun sessions. One session I wrestled to Cross Dress. When he lost… which was immediately I made him wear my Bras. He had tits almost as big as mine too lol! Also had some semi-competitive matches, foot worship, lift and carry and domination sessions. I have already had to replace two whips and floggers in the past month… sorry not sorry.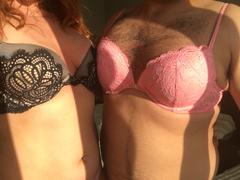 I also got to film some great content for my clip store! I filmed with Milf GiGi in Tampa. we did a size comparison, she is only 5 ft tall with size 5 feet! You boys will love the difference! Watch the clip here
We also filmed a foot domination clip which I haven't posted yet so stay tuned! So tiny little Gigi also popped my cherry with tying me up. I will try anything once and nope I prefer to tie up boys and beat them up lol! I also got to dominate her back with ass spanking which she apparently hates, (she only told me this after) boot licking and whipping. Watch the Clip here
I also filmed some really extreme crushing, trampling and Butt Drop clips with a Florida slave. One clip I actually put a couch on his chest and sat on it as I ate my lunch! Watch clip here
Another was Extreme Butt Drops with an accidental KO! Oops ha ha! Watch clip here
Follow me on Instagram and Twitter to stay in touch with me!