Stay Connected with Me Virtually until I see you next Time!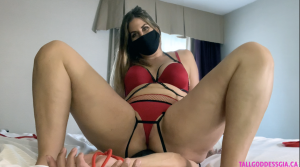 Rest In Peace 2020! I had so much travels planned for this year with new places and exciting events….but Covid kinda messed that up. I will be staying in Canada for the remainder of the year mainly working in Toronto and Ottawa. Toronto once a month and Ottawa by advance appointment bookings. I will be available to travel in Canada but only
by sponsored trips. In the meantime I am available for video sessions via Skype which you will need to be an OnlyFans member of mine to set up and pay. Or you can text or call me via SextPanther.
I am also available for Custom Clip orders with male and female models. Please contact me to submit your script idea and for a quote.
My plans for this year are to continue creating awesome content for your viewing online. I really can't wait to jump on a plane and continue with my travel plans. I am not booking any future travel plans at the moment so no need to email me for an in person session at this time as I get loads of emails like this daily, I will not be replying to them as it is not something I am offering right now so instead please join my OnlyFans and we can chat there or book a virtual session for some fun!