I went on my first U.S. tour! I had a wonderful time doing what I do best, beating up boys! I got picked up at the airport my a loyal slave who brought me to my hotel and bought me dinner. For dessert he booked a foot fetish session with me as he massaged my tired feet and sucked my toes. What a lucky boy!
I did a bunch of different sessions from competitive mixed wrestling to fantasy wrestling where myself and my client dressed in ballet leotards and I was trying to get into a ballet school and he was the snotty Instructor and wouldn't let me in because ballet isn't for amazons ha ha he was wrong! I also had a trampling, ball busting and kicking session with one sub. I kicked his balls to a pulp, he's gonna have some nice bruises! Another session I got to wear this Steve Nash belt and knockout a client in a sleeper hold.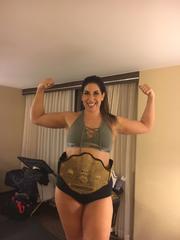 One good piggy knew how serve me as he took me shopping all day treated me to some Boston oysters and drinks and then paid for my hotel.
I got the pleasure to meet the gorgeous Jasmine Mendez (@laughinglatina on twitter) and shoot clips with her! Make sure you are following her if you aren't already because those  clips are hot! It's always such a pleasure for me to meet another tall women as it doesn't happen often.
I will definitely be coming back to Boston soon, don't miss your opportunity to serve me next time!